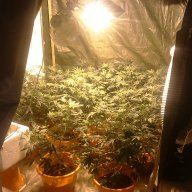 Last Activity:

May 13, 2018
Joined:

Feb 22, 2016
Messages:

381
Likes Received:

290
Trophy Points:
Gender:

Male

Birthday:

Feb 22, 1968

(Age: 50)

Occupation:

welder fabricator
Loading...

Loading...

About

Gender:

Male

Birthday:

Feb 22, 1968 (Age: 50)

Occupation:

welder fabricator

hi and welcome to my page so a lil bit bout myself im a 50yr ole grand dad lives on my own so no body to get in the way of my gardens and have the full run of the house lol
how i got into growing mmmm I had always wanted to do a grow and i split from my mrs tail end of last year, so i spoke to an old friend who i new had an old lamp and extractor and knowledge we agreed to set up a home made growroom in my spare bedroom so off we wnt to B&Q and got sum wood for the frame and sum ground sheets from a builders yard , got 15 cuttings from a blue cheese and sum nutes. the general idea was for my m8 to pop round 2-3 times a week tell me wat im to do and basically show me and because it was in my house and i taking the riskos we agreed to split 50/50. All was good the first couple of weeks then my m8 stopped calling round excuse excuse excuse. I had been reading and searching watching you tube videos so thought dont need ya I can do this ive got all the kit as such and it is going fine. Anyways it was all going great i was learning how to LST and otheer things like topping, fimmimg ,scrogging, sog i was even puttting some of the LST techniches into place all was great or so i thought!!!! then BOOM NUTE LOCKED with about 14days to go till HARVEST MMMM well I didnt kno did I its only wen i went away for 2nights and came back and they were all (50%) a yakki horrible golden yellow colour so i because i had read aa lil about nute burn and lockout i spent 6hrs putting them all in the Bath 1 at a time and poured about 5gallons of straight water through them all then got em back under the light, i then carried on just watering daily till harvest, I lost 3 plants they didnt pick back up at all the other 12 didnt really pick back up but i managed to get about 12 oz from that garden . i gave my m8 a couple of oz and told him to get his gear and sling his hook. i then found out wat I had done wrong instead of water , feed, water , feed , all i had ever done was feed feed feed feed feed oh well a STEEP LEARNING CURVE WAS LEARNT !!!! isold a couple oz and went and bought me a 1.2 black Orchard set up with a 600 hps and got me some Auto BEANS and now im 2 weeks into this all gooing well
So thats basically my story feel free to jump in on any of my threADS AND JOURNALS I will always read comments and take onboard wen needed

Interact

Content:

Facebook:

tipper01

Loading...
Loading...